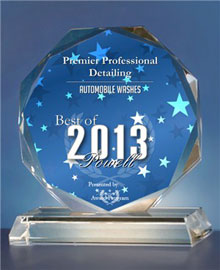 Premier Professional Detailing has been selected for the "2013 Best of Powell Award" in the Automobile Washes category by the Powell Award Program.
Click here to read the Press Release...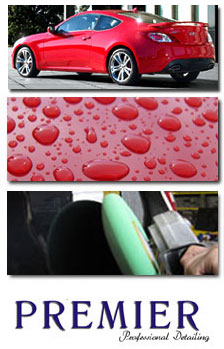 Complete Professional Auto Detailing Service In Powell, Ohio
Be it personal or a business, give your vehicle a "Show-Room Shine" from award-winning Premier Professional Detailing. With over 12 years of car detailing experience, we take pride in our work, use only the highest-quality cleaning products, our equipment is state-of-the-art, and we offer a variety of affordable vehicle detailing packages and specialty services. Premier is locally owned and operated by auto detailing professionals who have a passion for making vehicles their Absolute Cleanest.

From interior to exterior, front to back, Premier's professional detailing technicians will meticulously deep-clean and polish all surfaces and crevices of your vehicle. Our detailing services include: hand and pressure washing, hand and buff waxing, upholstery-carpet-mat shampoo, wheel cleaning and treatment, steam cleaning and so much more. See our service page for a complete list of our available services.

Premier Professional Detailing provides basic or complex detail service for:
CARS
SPORTS UTILITY VEHICLES - SUV - VANS
MOTORCYCLES
TRUCKS
RV-BUSES-CAMPERS
BOATS
LIMOUSINES and more!  
FREE PICK and DELIVERY! Would you like to have your car detailed, but can't seem to fit making an appointment into your busy schedule? Premier is your solution! Premier offers "FREE PICK-UP and DELIVERY" of your car at work or at home within the Powell and Dublin service areas. Schedule an appointment with us, then we will pick up your car and return it you looking absolutely brilliant! Now, isn't that convenient service?

You will not find an auto detailer in this area with more affordability, expertise, efficiency, accommodating personalized service and client care, than with Premier Professional Detailing. We want to earn your business, and keep your business. Give us a call, give us a try, you will be extremely pleased that you did.
Phone us at 614.806.9633 now for a pricing quote, to schedule an appointment, or to obtain information regarding our professional vehicle detailing services.
Premier Professional Detailing.
Giving your vehicle a fabulous "Showroom Shine!"